OUTSIDEr
POWERLINKS
Truth To Power

5/22/12: Water Level is only 40cm From the Bottom in Reactor1
5/21/12: Ministry of Health, Labour and Welfare Banned Staff from Researching Fukushima Contamination
5/20/2012: 6.2 Magnitude Quake Shakes Japan
5/20/2012: Dam bursts at Frac Sand Mine, Sends Runoff into St. Croix River
5/20/2012: Tepco Banned Freelance Journalists from Taking Cameras to Fukushima Plants
5/18/2012: An Open Letter to the World on the Governmental Destruction of the Environment in Canada
5/18/2012: The Organic Watergate: Alarming Report Reveals USDA's Cozy Relationship with Corporate Agribusinesses in 'Organic'
5/18/12: Fracking Fluids Could Contaminate Freshwater Aquifers, Says Study
5/17/2012: Mass Dolphin Deaths in Peru Caused by Industrial Acoustic Trauma
5/17/2012: Forty Million Japanese in 'Extreme Danger' of Life-threatening Radiation Poisoning, Mass Evacuations Likely
5/17/2012: Bee kills in the Corn Belt: What's GE Got to Do with it?
5/16/2012: YouTube Video: Tsunami Debris In Juan de Fuca Strait, Washing state
5/15/2012: Petition: Don't turn Pagan Island into a Garbage Dump
5/15/12: Nuclear Catastrophe Imminent at San Onofre if Guidelines Continue to be Ignored
5/15/2012: Kodak Maintained an Underground Nuclear Reactor for Over 30 Years
5/14/12: EPA Strongly Defends Its Veto of One of Largest Mountaintop Removal Mines Ever Proposed
5/13/2012: BREAKING: HISTORIC JUDGMENT. Bush & Associates Found Guilty of Torture
5/13/12: Plume-gate: Secret documents prove global cover-up of continued Fukushima radiation pollution
5/12/12: The Nuclear Industry and Fukushima: A Giant Nail in the Coffin of Humanity
5/12/2012: Fukushima Daiichi: The Truth and the Future
5/9/12: U.S. Senator sounds alarm about 'precarious' Fukushima situation, warns of imminent release of radiation
5/9/2012: U.S. Senator sounds alarm about 'precarious' Fukushima situation, warns of imminent release of radiation
5/8/2012: Cesium Red Alert
5/8/2012: Smart Meters: California Stocking Up on Candles as Vermont Gets Free Opt Out
5/4/2012: Disaster Lingering: A Gundersen on KGO- Fukushima Daiichi Unit 4. Part 3.
5/4/2012: Radio: Cesium all the way down US West Coast; Pine needles from So. California; Ground samples from Vancouver and Oregon - Not a lot, my biggest concern is bioaccumulation as it works up food chain (AUDIO)
5/1/12: Fukushima Diary: Settlement Report
5/2012: Sacred White Buffalo Slaughtered; Reward For Catching Killer Grows
5/2012: Gold Rush Imperils Peru's Rainforest and Animals
5/2012: Obama Seizes Control Over All Food, Farms, Livestock, Farm Equipment, Fertilizer & Food Production Across U.S.
4/30/2012: "A Staggering Mess" as Tsunami Debris Hits Alaska Coast Early
4/26/2012: Arnie Gundersen on San Onofre
3/31/12: Fukushima Radiation Plume Hit Southern and Central California
6/11/11: Fukushima: It's Much Worse Than You Think Scientific Experts Believe Japan's Nuclear Disaster to be Far Worse than Governments are Revealing to the Public
3/14/11: WSJ: How Nuclear Reactors Work ... And the Dangers When They Don't
British Petroleum Cover Up
Apr. 10, 2012
- Mass Die-Off of Hundreds of Dolphins After BP Spill is "Unprecedented"
BP ain't talkin'.....
and Exxon ended up paying 10 cents on the dollar reparations in their Valdez Nightmare.....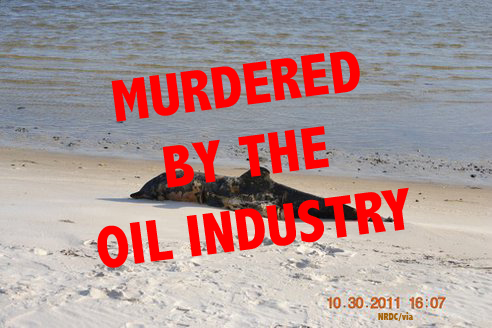 GREENPEACE:
5-10-11 PRESS RELEASE: One Year Later and Congress Has Learned Nothing
Oil Industry Even Less Regulated than Before the BP Disaster
Instead of making it harder for oil companies like Shell to drill in the icy waters of the Arctic Ocean, the House of Representatives just voted to make it easier. If this legislation becomes law, the oil industry will be even less regulated now than it was a year ago before the BP disaster in the Gulf of Mexico.
And to make matters worse, Shell already gets millions in subsidies every year from the U.S. government. In fact, last year Shell paid effectively no taxes at all to the U.S. government. Congress is giving them more incentive to take unacceptable risks with our national treasures. It's time to put a end to this dangerous game. We have a chance to do just that.
As soon as tomorrow, Congress will be voting on a bill that would cut billions of dollars worth of subsidies to oil companies like Shell. But the industry and their friends in Washington are currently doing everything they can to stop that from happening. That's why you need to speak up and send a message to your members of Congress.
Congress needs to hear your voice. Ask your members of Congress to put an end to government subsidies to the oil industry now.
Shell just submitted plans to drill up to ten new wells in Alaska's Arctic Ocean over the next two years using the same faulty technology that BP uses in the Gulf. But Shell's plans in the shallow waters of the Arctic are even more dangerous than BP's are in the Gulf and run a higher risk of blowouts, according to government data.
Shell isn't prepared for a disaster in the Arctic Ocean. No one is. It's a known fact that there's no way to effectively clean up an oil spill in the Arctic's harsh conditions. All they care about is their corporate bottom line.
Congress should be fighting for you. It's your money and it's our land. The vote could be happening as soon as tomorrow. Contact your members of Congress today and ask them to put an end to government subsidies to the oil industry before it's too late.
Sincerely,
Melanie Duchin
Greenpeace Arctic Campaigner
More info. www.GreenPeace.org
LETTER: Protecting Yourself: Radioactive Fallout from Japan Detected in California
From: grantpeacenurse726@gmail.com
Subject: Radioactive Fallout from Japan Detected in California
Date: March 18, 2011 6:15:15 PM PDT


Dear friends:
It was announced on CNN this early evening that radioactive fallout has been detected up and down the State of California from the hydrogen explosion, waste pod fires, and nuclear meltdown in Japan.
I urge all of you to Practice the Following
Precautions:
1) Limited exposure to the external environment;
2) Wear facial masks when you go outside;
3) It will rain tomorrow. Do not go out in the radioactive rains coming from Japan. If you cannot avoid doing so, wear masks, take umbrellas, and wear old clothes, so you can discard them when you come home. If you are
outside for a prolonged time, shower with mask in tact, and dispose of clothes, using gloves.
4) When you are driving, do not drive with windows down. Do not use circulatory air.
5) When you are at home, close all windows, especially those facing the coast.
6) If you had radiation treatment for cancer, or you know of those who have, please warn them of a radioactive environment.
7) If you have young children, the following precautions are even more essential, as young people are particularly susceptible to higher radiation levels. This is a Radioactive Alert. This is no joke/exaggeration. One particle of inhaled fallout will cause an eventual lung cancer, thyroid cancer, organ, brain, and bone cancers. Cessium137, iodine131, and strontium90 along with 200 nucleotides have been released, some of those detected along with plutonium up and down the California coast. Use upmost precautions if you value your life, and the lives of your children.
MELTDOWN IN JAPAN: Japan raised the radiation alert level from
4-5 today. Stephen King on CNN revealed new photographs today showing that all cooling pond storeage areas, positioned above the reactor, have been exposed to air. In reactor's 3 and 4 at Dachine show cracks in the containment vessel. This fact means meltdown.
King also announced radioactive fallout has been detected throughout our state. Briefly, I will explain. The core of the reactor is cladded in zirchonium. When there is no water to cool the core, and the core is exposed to air, the "pressure vessel" surrounding the core melts down. However, though radiation is released, the "containment vessel," that concrete dome visible to us, will keep the fallout from being released. Pressure, will build, and under a "controlled event," that pressure can be released as radioactive hydrogen steam, the hydrogen caused by the zirchonium. The fuel core is cooled by electrical power, that allows a pump to expose fuel rods for heating the core, and to cover fuel rods for controlling the heat. The circulatory pumps, with condensors, circulate the water to keep the core cool. If these fail, a backup cooling system is in place that slows down the damage, prevents further damage, or stops a meltdown. In Japan, there is no control. The plant lost all electrical power, so the cooling systems were shut down. The back up generators lost power during the tsunami. Therefore, all cooling ability was lost, and all cores were exposed to air, as water was dissipated. There are 9 reactors at the Fukushima site. There are 6 spent fuel storeage ponds. The total amount of radioactive materials at the plant is known, and equals 1000 hiroshima bombs (Physicians for Social Responsibility, Citizens for Nuclear Information, Helen Caldicott, Rachael Maddow, Ralph Nader). We saw this lost control with our own eyes, the spent fuel fires burning in the night, the hydrogen explosion, with so much radioactive debris thrown into the air, hellicopters could not fly overhead to drop needed water, and finally the cracked containment vessels, and new photos that show a skeletal power plant system left after the 9.0 quake followed by the tsunami.
If there is a windshift in Japan, all Tokyo could be exposed. The wind is currently blowing our way.
Please pass this message onto others to insure they too avoid catastrophic illness. Protect your kids. "Above all else, do no harm."
-- Grant Marcus, RN
"[The People] are the ultimate, guardians of their own liberty." - Thomas Jefferson
Is Your Local "Health" Food Store or Restaurant Really as Healthy is it's Cracked Up to Be?
Fakery for $$$ ~
"Organic" Foods:
Certification Does Not Protect Consumers
EDITOR'S NOTE:
The Ojai and Ventura VIEW has been getting numerous reports of a white substance being dropped by aerial means on drivers and residences off the 101 Fwy. We were requested to see what gives.... So, on Tues. Mar. 22, 3:20pm; The Ojai and Ventura VIEW contacted the City of Ventura, City Managers Offices who said they "Don't know..."
LETTER: Chem Trail Dump?
From: Name Withheld Upon Request
Subject: What were the helicopters dropping on the 101 Thursday?
Date: March 21, 2011 4:29:05 PM PDT
Thursday afternoon was a very busy day around Ventura County, and especially in Camarillo, so close to Pt. Mugu. Planes and helicopters overhead nearly all the time. All sounding very busy and urgent.
At one point, about 2pm, I saw two helicopters flying low over Daily Dr. and the northbound lane of the 101. I was at that time driving north on Daily. I had a good minute to watch this pair of helicopters come closer, while beneath them was a triangle of dark mist, as if something was coming out of the black tanks they carried underneath. When they passed, and I got home and parked my car, I noticed a very fine dust, perfectly evenly spread, appx 1 grain for every 1/8 inch of surface area of my car. I took a sample of the dust in case I'd ever have the chance to test it. Basically, it seemed grey on my wiping cloth, but on a dark surface or when it drifted into small piles, appeared pale green to yellow. Even on Friday, this fine dust could be seen on the railings of the walkways of the apartment complex where I live.
Could someone please print some information (or disinformation at least) as to what this was and why it was rained on us without our knowledge or consent? In the shadow of reports from Japan that radioactive winds would be arriving in California that day, I imagined that the dust might be there to protect the citizens in some way from fallout - but, truly, it could be anything. Toxins, flu agents, heavy metals...anything. To my worried mind, perhaps the authorities were finding a way to preemptorily "do away with" the population before the nuclear fallout got to us.
As you can see, any explanation will be hopefully better than the story that came to my mind.
- AD
Camarillo

FUKUSHIMA
ANOTHER DEAD ZONE
NUKE Coverup

Too Many Nuke Plants Worldwide and too many stockholders that won't give up their meal ticket....
Three-Eyed Blinky


From
the Fission Hole


Mr. Burns sez...
"I'm here to talk to you about my little friend here, Blinky. Many of you consider it to be a hideous genetic mutation. Well, nothing could be further from the truth.... The truth is, this fish is a miracle of nature, with a taste that can't be beat."
"Only two things are infinite, the universe and human stupidity, and I'm not sure about the former."

- Albert Einstein

LETTER: A letter from Sendai ~ ANNE THOMAS 3/14/2011
The following letter was sent to The Ojai and Ventura VIEW by Catalina's Angel Inspriations, inspiration@catalinasangels.com
Things here in Sendai have been rather surreal. But I am very blessed to have wonderful friends who are helping me a lot. Since my shack is even more worthy of that name, I am now staying at a friend's home. We share supplies like water, food and a kerosene heater. We sleep lined up in one room, eat by candlelight, share stories. It is warm, friendly, and beautiful.
During the day we help each other clean up the mess in our homes. People sit in their cars, looking at news on their navigation screens, or line up to get drinking water when a source is open. If someone has water running in their home, they put out a sign so people can come to fill up their jugs and buckets.
It's utterly amazing that where I am there has been no looting, no pushing in lines. People leave their front door open, as it is safer when an earthquake strikes. People keep saying, "Oh, this is how it used to be in the old days when everyone helped one another."
Quakes keep coming. Last night they struck about every 15 minutes. Sirens are constant and helicopters pass overhead often.
We got water for a few hours in our homes last night, and now it is for half a day. Electricity came on this afternoon. Gas has not yet come on. But all of this is by area. Some people have these things, others do not. No one has washed for several days. We feel grubby, but there are so much more important concerns than that for us now. I love this peeling away of non-essentials. Living fully on the level of instinct, of intuition, of caring, of what is needed for survival, not just of me, but of the entire group.
There are strange parallel universes happening. Houses a mess in some places, yet then a house with futons or laundry out drying in the sun. People lining up for water and food, and yet a few people out walking their dogs. All happening at the same time.
Other unexpected touches of beauty are first, the silence at night. No cars. No one out on the streets. And the heavens at night are scattered with stars. I usually can see about two, but now the whole sky is filled. The mountains of Sendai are solid and with the crisp air we can see them silhouetted against the sky magnificently.
And the Japanese themselves are so wonderful. I come back to my shack to check on it each day, now to send this e-mail since the electricity is on, and I find food and water left in my entranceway. I have no idea from whom, but it is there. Old men in green hats go from door to door checking to see if everyone is OK. People talk to complete strangers asking if they need help. I see no signs of fear. Resignation, yes, but fear or panic, no.
They tell us we can expect aftershocks, and even other major quakes, for another month or more. And we are getting constant tremors, rolls, shaking, rumbling. I am blessed in that I live in a part of Sendai that is a bit elevated, a bit more solid than other parts. So, so far this area is better off than others. Last night my friend's husband came in from the country, bringing food and water. Blessed again.
Somehow at this time I realize from direct experience that there is indeed an enormous Cosmic evolutionary step that is occurring all over the world right at this moment. And somehow as I experience the events happening now in Japan, I can feel my heart opening very wide. My brother asked me if I felt so small because of all that is happening. I don't. Rather, I feel as part of something happening that much larger than myself. This wave of birthing (worldwide) is hard, and yet magnificent.
Thank you again for your care and Love of me,
With Love in return, to you all,
Anne
"[The People] are the ultimate, guardians of their own liberty." - Thomas Jefferson
OUTSIDE
LINKS
"Only two things are infinite, the universe and human stupidity, and I'm not sure about the former." - Albert Einstein
Apr. 30, 2012
- GARBAGE "A Staggering Mess" as Tsunami Debris Hits Alaska Coast Early
Oil Co. Poison Plastic:
"In my opinion, this is the single greatest environmental pollution event that has ever hit the west coast of North America. The slow-motion aspects of it have fooled an unwitting public. It far exceeds the Santa Barbara or Exxon Valdez oil spills in gross tonnage and also geographic scope." - Chris Pallister, president of Gulf of Alaska Keeper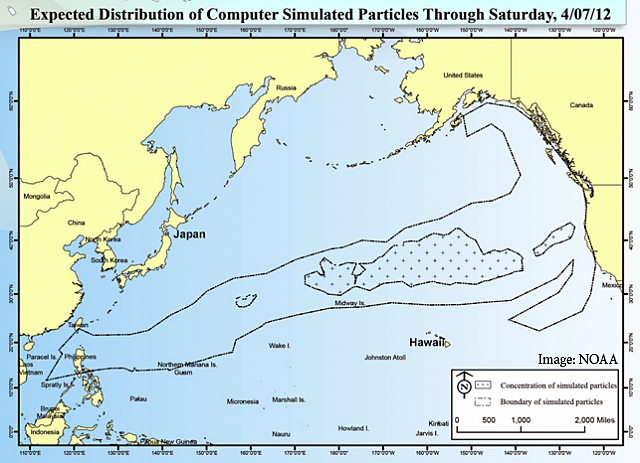 Please Click Map Above to Enlarge
Apr. 5, 2012
- Related Video: WIlderness Issues Lecture Series 2012: Part 6: One Hour, 19:10 Mins.
$TOCKHOLDER ECONOMIC$.... Why the mainstream press is not pushing to dissolve Nukes... Do you have a Nuke near you ? How couldn't you....What are the odds of more Nuke "not so accidental man-made accidents"? There are 442 Nuclear Power Generation Plants worldwide according to www.euronuclear.org

$TOCKHOLDER ECONOMIC$ OVER EXTERMINATION... In Northern California.... "The 63 MW Boiling Water Reactor at the Humboldt Bay Nuclear Power Plant in Eureka was in operation by PG&E from August 1963 to July 1976. It was the seventh licensed nuclear plant in the United States. It was closed because the economics of a required seismic retrofit could not be justified following a moderate earthquake from a previously unknown fault just off the coast. It was permanently shut down July 2, 1976, and retired in 1985. The plant was then placed in SAFSTOR (with spent nuclear fuel rods stored in water pools on site) until anticipated full decommissioning in 2015." Source: http://www.energy.ca.gov

Question: Why is there no massive worldwide outcry to retire Nuclear Power and Arms? Answer: Corporate Lust for $$$
- View Editor